The Cycle of Abuse: My story.
Have you ever found yourself in a relationship that started off amazingly, but eventually turned sour? Do you understand the Cycle of Abuse?
Maybe it began with small arguments that gradually escalated into bigger fights, or perhaps over time life changed and you found yourself isolated, living in fear and controlled by your partner.
Whatever the case may be, it's essential to understand that abusive relationships often follow a predictable cycle, and recognizing this cycle is the first step towards breaking free from toxic relationships.
I am not a Doctor or Psychologist but I lived this cycle for years, saw the patterns but didn't understand them. I was young and thought I could conquer the world and could achieve anything, including making my husband happy. That happiness was only intermittent and this was very confusing for me.
I want to share my story with you to highlight how the cycle of abuse works. Being trapped in this cycle kept me running in circles for 20 years hoping for a better outcome. People who have never been in an abusive relationship often don't comprehend why I tolerated abuse for 1 day let alone for years.
Those of you who have been there will relate to this article and for those of you who have been lucky enough to have evaded abusive relationships maybe this article will help you to have a greater understanding as to why some of us have stuck with these relationships.
If I can help someone with my experience and with what I have learned about the Cycle of Abuse that will be awesome.
It was only when someone mentioned the Cycle of Abuse in passing did I start to study, investigate and finally understand what was happening to me.
Abuse is never okay. If you're currently experiencing abuse or looking to support someone experiencing it, understanding the narcissistic Cycle of Abuse from someone who has gone through it may help you.
Abuse is a problem that affects millions of people worldwide and can happen to anyone, regardless of age, gender, or social status. It also affects both men and women.
Signs of abuse may initially be subtle but they can quickly escalate into dangerous and even life-threatening situations.
So let's take a step back and view the Cycle of Abuse from my experience, it consists of three main phases: the tension-building phase, the explosive phase, and the honeymoon phase.
The Tension-Building Phase
The tension-building phase is the first stage of the narcissistic cycle of abuse, and I found that it was characterized by an increase in tension and anxiety between my abuser and myself.
During this phase, he became irritable, moody, and easily agitated. He may have even picked fights on purpose over minor issues or become overly critical of me.
I felt like I was walking on eggshells, trying to avoid triggering his anger.
The Explosive Phase
The explosive phase is the second stage of the abuse cycle, and it's when the abuse reaches its peak.
During this phase, he may have lashed out physically or verbally, using violence or intimidation to control me. I felt scared, helpless, and trapped in the situation.
I somehow blamed myself for the abuse, believing that I had somehow caused it.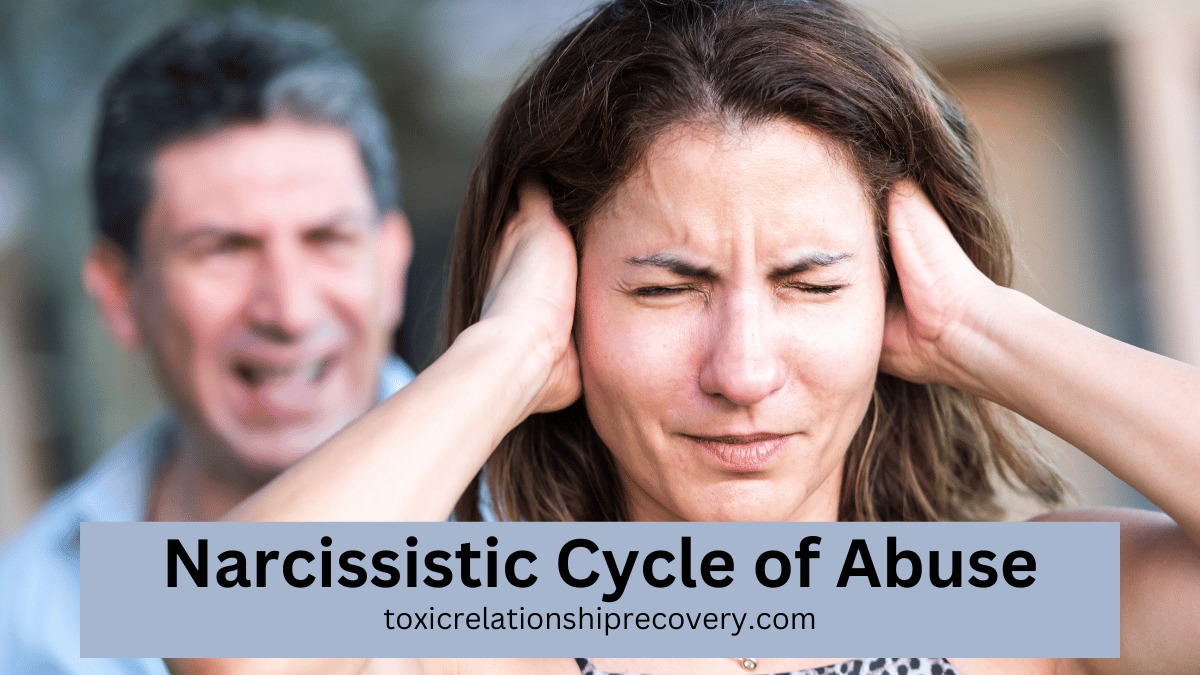 The Honeymoon Phase
The honeymoon phase is the third stage of the abuse cycle, and it's when the abuser tries to make amends for their behavior.
During this phase, he would apologize, promise to change his ways, and shower me with affection and attention.
I remember feeling so relieved that the abuse was over, and so hopeful that things will be different from that point on.
But unfortunately, this was a never-ending cycle and in a few weeks, the tension-building phase would start all over again.
Conclusion
For me understanding this Cycle of Abuse was key to breaking free from my toxic relationship. If you're experiencing abuse, you need to get help and support.
Contact a trusted friend or family member, a counselor, or a domestic violence hotline for support. The fear and shame of speaking up and sharing the abuse with someone is worse than it actually is. Get support and don't carry the secret with you.
And if you're looking to support someone who's experiencing abuse, be patient, non-judgmental, and ready to offer help when they're ready to accept it. This is a complex cycle that makes it very difficult to break free from even though it seems so logical to understand by those looking in from outside the relationship.